Superman sushi is a type of roll that typically includes salmon, tuna, avocado, and cucumber. It is served with soy sauce and wasabi on the side. You can garnish the roll with sesame seeds, tobiko, or shredded nori. While the exact ingredients may vary depending on the chef, Superman sushi is typically a colorful and flavorful dish that is sure to please any sushi fan.
What makes this roll unique?
There are many different types of sushi, and each one has its own unique flavor and ingredients, but the superman roll definitely stands out from the rest because of its flavorful taste and soft texture and crispy texture. The modern versions of this roll contains a variety of fish, including salmon, tuna, and yellowtail.
With the fish wrapped in rice and seaweed and topped with avocado, cucumber, and tobiko, the roll that finally comes out is sure to please your taste buds. Thanks to its flavor, the superman sushi roll has become a must-try dish for sushi lovers. If you love sushi and want to try something new, you should try this roll at least once.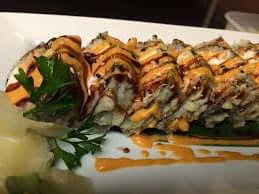 Best sauce for the superman sushi roll
While there are many delicious sauces that can be used with sushi, spicy tuna sauce is the perfect complement to the superman roll. This roll is made with tuna, cucumber, and avocado, and the spicy tuna sauce helps to bring out the flavor of the fish. In addition, the sauce adds a bit of heat to the roll, making it even more enjoyable.
Apart from spicy tuna, you can also taste the roll with soy sauce or wasabi. Initially, people used to have the superman roll with wasabi. However, one of the Japanese restaurants started serving it with fish sauce. It became an instant hit. Later, after much experimentation, it was found that the tuna sauce enhances the flavor of the roll to a great extent than other sauces.
What to order alongside the superman roll?
If you are ordering the superman sushi roll, there are a few other things that you should consider ordering as well.
● You should order a side of pickled ginger. This will help to cleanse your palate between bites.
● Additionally, you can have a cup of green tea. This will help with digestion and lower the risk of indigestion.
● It is also best to order a Miso soup. This soup is made with seaweed and tofu and it is a good source of protein.
● Crisp white wines like Sauvignon Blanc or Pinot Grigio pair well with the light flavors in this sushi roll.
● If you're looking for something a little heartier, try Riesling or Chardonnay. Otherwise, you can take soda water with a squeeze of lemon if you want to avoid anything alcoholic.
So, if you want a healthy and delicious meal option that is also fun to eat, be sure to try the superman roll. With its mix of nutritious ingredients and great flavor, this dish is sure to please both your taste buds and your health-conscious side.