Why have we bought, tested and then come up with our favorite 11 kits? We've done it for you and…
…being a sushi lover, I always felt that I was paying enormous amount at restaurant just for those rice wrapped bowls before I started making them myself at home. After all, why pay someone else when you can make sushi yourself in a much more affordable way at home with these best sushi making kits.
All of which will make you a sushi master and offer free shipping of your DIY Nigiri sushi at home.
Whilst taking a look at out favorite sushi maker tools below there are a few things we believe you should keep in mind with these products. The type of sushi kit you need? Do you require an all singing all dancing one? Are you on a budget? Are you a beginner?
What do you already have at home? One of the most important elements is a super sharp sushi knife. However, if you already have one then you can choose a sushi kit that doesn't contain a knife.
Enjoy 😉
Best Sushi Making Kits 2022 Reviews
Before we get into the list – This is our over all best pick by far – just click the image for this fantastic sushi maker set.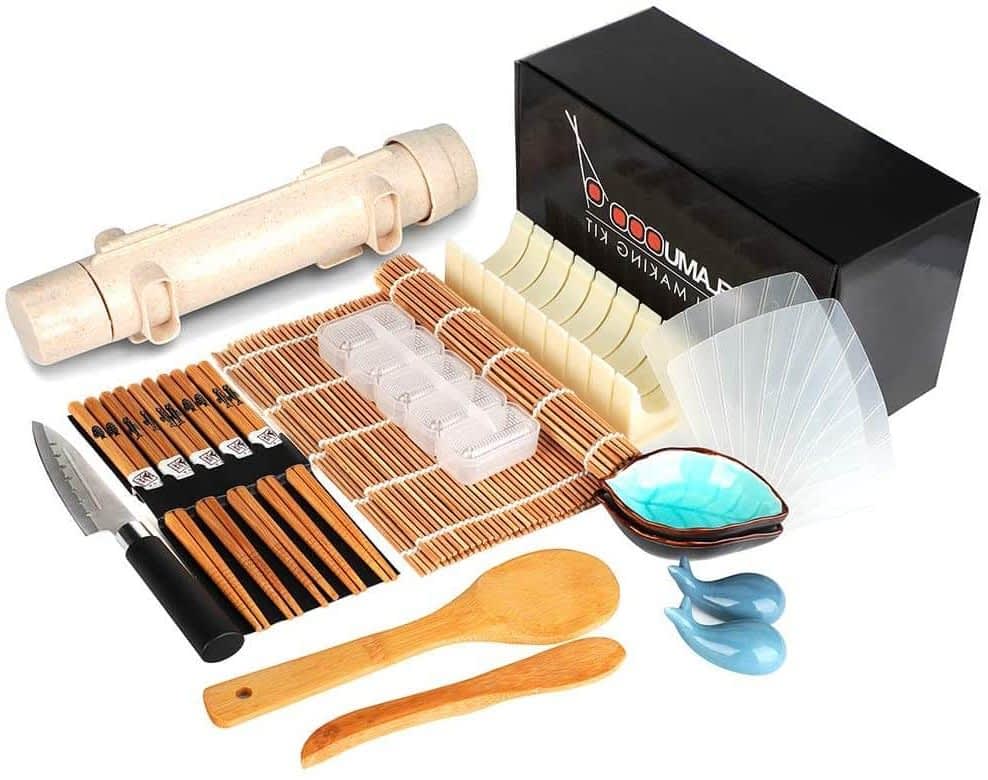 This makes sushi making super easy, is voted TOP by our customers and a great priced sushi kit.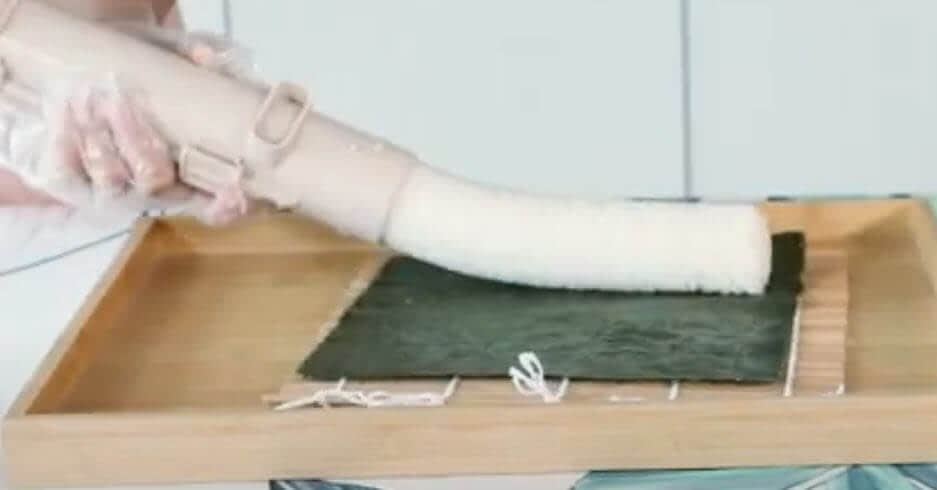 Here are 10 of the best Sushi Making Kits in 2022 that can help you make some delicious and nutritious sushi yourself at home.
1: Aya Sushi Making Kit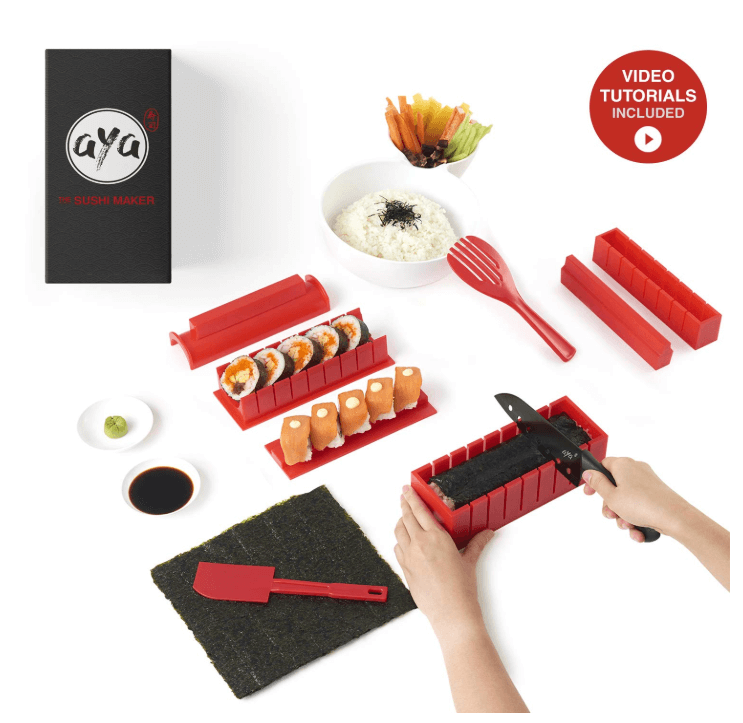 Aya (or sushiaya kit) is a Japanese Brand and manufactures one of the best sushi makers. This beautiful kit brings you the traditional Japanese sushi making to your kitchen. You don't need any culinary skills to use this kit. You will receive a total of 11 pieces that are of different sizes and shapes. Some are round, triangle square, heart shaped etc.
This lets you crate your sushi in different ways and be creative with your cooking. This sushi maker kit is very easy to use and is safe for adults and kids as well.
You'll also receive a non-stick rice spreader inside the kit that helps to maintain the quality of the sushi and keeps it fresh for long. There is a chef knife as well which you can use to easily slice your sushi into equal pieces.
Since the kit is very smooth, this make it easier for you to wash it. It is BPA free and approved by the FDA.

2: All In One Sushi Bazooka Maker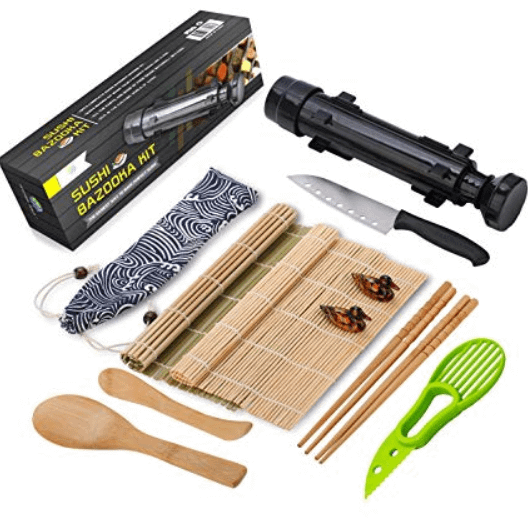 For beginners, the All in one Sushi Bazooka Maker is the best kit to have. It comes with everything that you need to make the most delicious sushi at home. Inside the kit you will find Sushi Bazooka, Bamboo mat, knife, spreader, chopsticks pairs, holder, spatula and avocado and cucumber slicer.
Some say this is the top kit for Sashimi even made with salmon, roe, squid, eel, shrimp or tuna.
This kit is made out of high-quality bamboo and food grade plastic material that will last for long. The plastic used is BPA-free and also non-toxic. The kit is extremely easy to use and wash. Even the bamboo mats easy to wash like a pro after making your favourite sushi recipes.
All you need to do is buy the ingredient, mix them up and start making your sushi rolls using the Bazooka kit. Its fun and easy.

3: Sushi Bazooka By Sushedo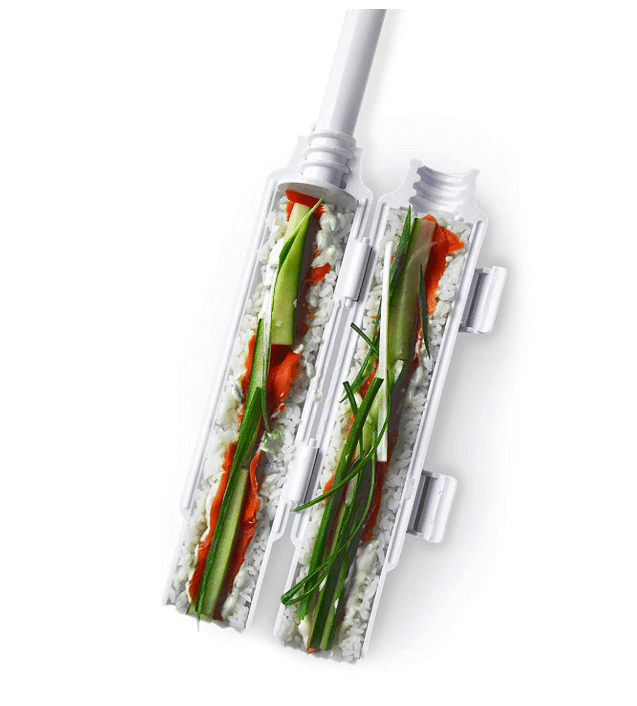 Sushi Bazooka by Sushedo is one of the most popular kits on the market. It makes making sushi creative and entertaining for you. The kit has only three major pieces but they are enough to prepare a delicious and perfect sushi for you.
The kit contains a sushi tube, plunger and the endcap. All the pieces create a pretty stylish design. It has a slick flimsy plastic constructions.
I don't like the hinges; they are hard and makes it difficult for you to close the kit. Its tube is the main piece that you will use to place the sushi. This kit requires you to put large amount of rice or stuffing to make it work and may not be the best option if you love small sushi pieces
or rolls.

4: Easy Sushi 8507 3.5cm Roller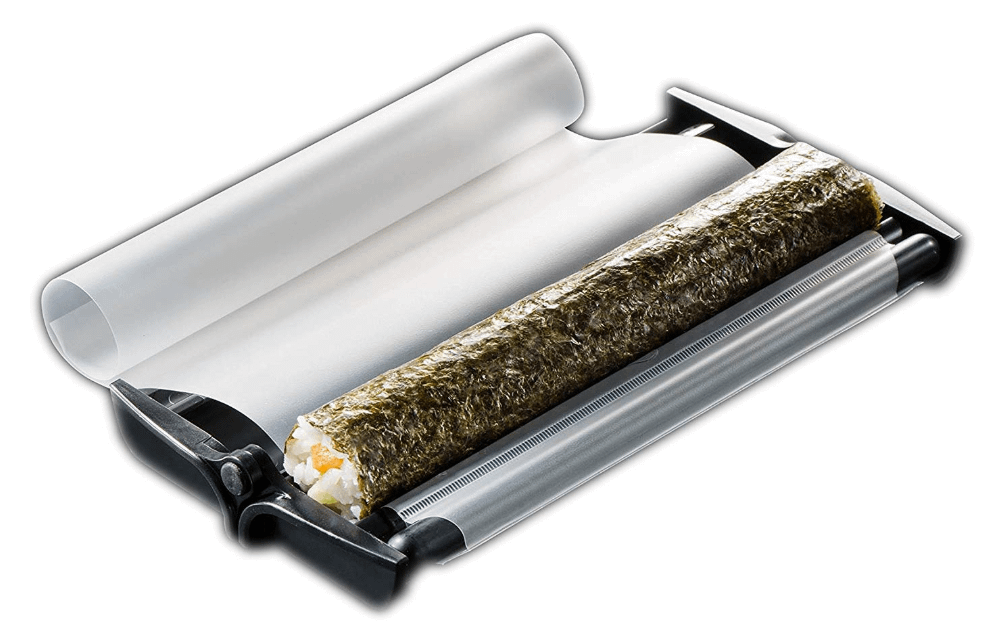 If you want to prepare your sushi super-fast and perfect, Easy Sushi 8507 is definitely the best option out there. You will love its functionality and the convenient design. This kit was built in France and that is why it has that simple design.
Its uses food grade plastic and you can also prepare other food items. Inside the kit you will find a roller along with a traction sheet. This roller is 3.5cm in diameter and 24cm in length which gives the sushi pieces the standard size. The roller is dishwasher safe and is pretty easy to clean.
The traction sheet use is reusable and can be easily replaced whenever you want. Make sure you clean it using a non-abrasive cleaning product.
You can also use this kit to prepare other food items like rice paper, tortillas, crepes and some traditional kind of wraps.

5: BambooWorx Sushi Making Kit
BambooWorx bring traditional sushi making techniques to your kitchen table. The kit contains two bamboo rolling mats along with a rice paddle and spreader that will help you prepare the perfect and most delicious sushi rolls ever.
Its rolling mats are made out of high-quality bamboo material boasting a pretty solid construction. This mat will nicely hold out your sushi filling and doesn't have any splinters or unravelling cotton strings.
Make sure that you use a saran or plastic wrap in between the mats and sushi. This will make it easier for you to clean them afterwards. The mats should be washed with hands only and dried with a soft piece of cloth afterwards. Only use some mild soap and warm water on the mats and do not expose them to high heat or sunlight.
The rice spoon and rice spreader inside the kit are made out of wood. The spoon is used to mix the rice and vinegar while the spreader helps to spread it evenly.

6: Sushi Me Bazooka Kit
The Sushi Me sushi kit is designed to help you prepare the perfect rolls every time. This kit is made in USA with the highest quality material and anyone in your family can use it to prepare delicious sushi rolls.
Inside the kit you will find the rolling device, sushi cutter and a step-by-step instruction manual. The kit helps to prepare four different kinds of rolls which include Maki, Uramaki, Futomaki and Hosomaki.
As the name implies, this also includes a bazooka for perfectly round rolls.
To adjust the size of your sushi rolls simply adjust the ruler. The sushi cutter inside also helps to slice the rolls in 8-10 shapes. The instruction manual helps you to use the product perfectly.

7: Sushi Chef Sushi Making Kit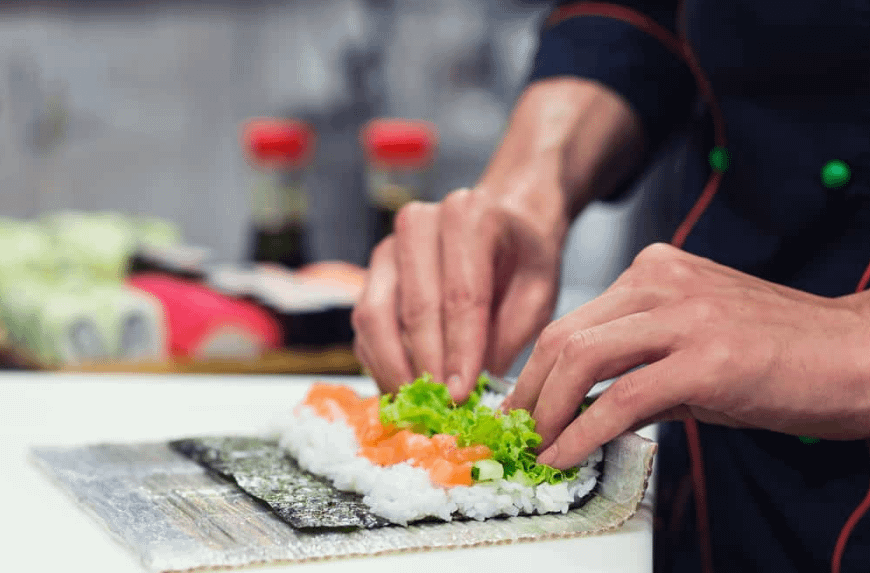 The Sushi Chef kit comes with all the essential tools and utensils for making the perfect sushi at home. The kit comes with a detailed recipe book with step-by-step instructions. It is quite a comprehensive kit that contains short-grain sushi rice, nori sheets, rice vinegar, wasabi, soy sauce and pickled ginger.
You will also find other tools like rice paddle and bamboo sushi rolling mat that helps with rolling your sushi balls. The best part about this kit is that it has enough ingredient that will help you prepare dinner for 12 people.
Its time to start rolling your sushi rolls.

8: Zen Formosa Sushi Making Kit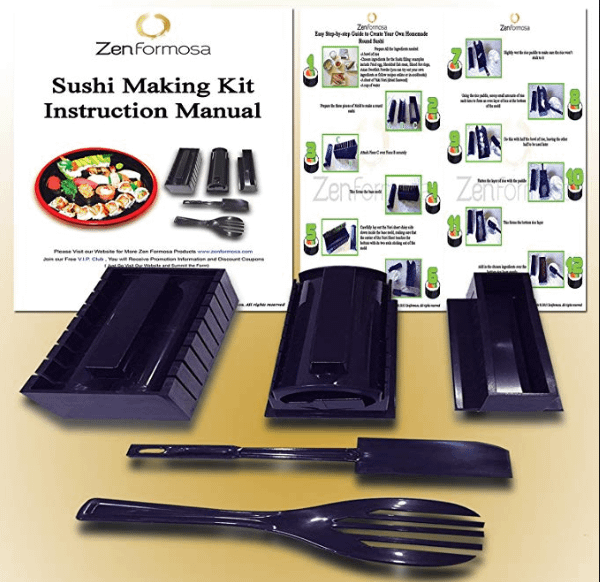 Zen Formosa is premium home sushi making kit that comes with five different kinds of mild to get maximum diversity in shapes. It also has different cutting frame designs that helps to bring more fun on the table.
You can easily shape the sushi pieces in a circle, square triangle and even a heart. It comes with a training frame and a rice paddle. The training frame helps to put the right amount of rice on the nori sheets and prevents errors so that you can cook the perfect sushi for your guests.
The non-stick rice paddle helps to evenly spread the rice on the training frame. This allows hands free preparation. Overall, this kit is made out of sturdy plastic and is very affordable.

9: Sante Cookware Camp Chef Sushezi Roller Kit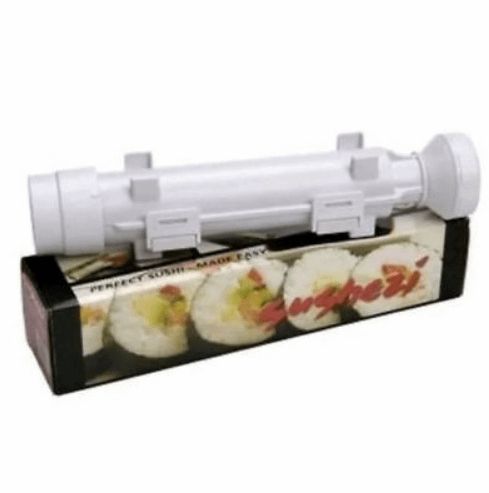 Sushezi means sushi and easy. This kit contains three pieces that provide the beginners a super easy way to prepare delicious homemade sushi. The only thing you need to make sure before crafting out your rolls is having the right consistency and texture stuffed up in the sushi.
Its main component is the sushi tube which is 12 inches long with a diameter of 2.5 inches. You can put rice and other ingredients inside it and use the plunger to push the ingredient into the nori sheet. Finally wrap up the rolls and serve the delicious pieces.
All the pieces inside the kit are made out food grade plastic which is safe and durable. You can also use it prepare crunchy dessert like walnut rolls, cake rolls, biscuit cookies and much more. This kit is dishwasher safe and comes at a very affordable price.

10: Mashta Sushi Making Kit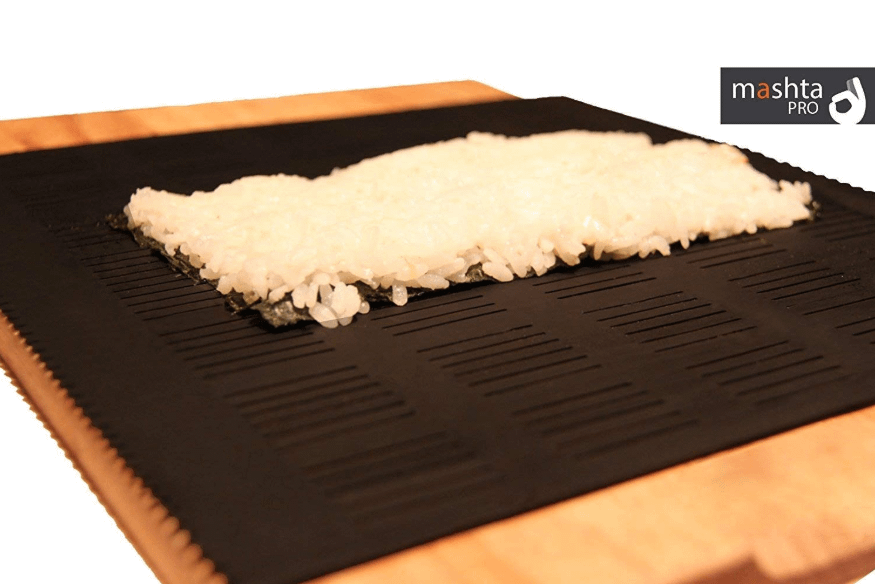 With no compromise on quality Mashta is one of the cheapest kits you will find. It uses material which is neither traditional bamboo nor food-grade plastic. The main sushi make in the kit is only 10.5 inches long rolling mat made out of silicone.
Because of the silicone fabric on the mat it makes it softer on your hand and makes it safer for the kids.
Inside the kit there are also two chopsticks along with a rice paddle. This paddle helps to evenly spread the rice on the mat. You can also add more ingredients for adding more flavor to your sushi bites.

So in conclusion sushi kits come in all shapes and sizes. The roll can be made with bamboo or the ever increasingly popular bazooka. These all make it easier for the fillings.
Some people want take get a lot more or give and purchase as a gift, therefore, some of the sushi making kit even come with a mold or 5 in different materials and a sushi knife.
Kit FAQ
1. What is included in the kit?
The kit includes a variety of items that can be used to create a variety of sushi. The kit includes:
-sushi rolling matt
-knife
-sushi plate
-sometimes a bazooka
-chopsticks
-sometimes molds
-rice paddle
2. Do you need to have any sushi making experience to use the kit?
No, you do not need to have any sushi making experience to use the kit. The kit comes with everything you need to make sushi, including a sushi mat, rice paddle, and sushi knife. The mat is used to roll the sushi, the paddle is used to spread the rice, and the knife is used to cut the sushi.
3. How easy is the kit to use?
Assuming you are referring to a particular kit, and not just asking in general:
The kit is very easy to use. It comes with everything you need to get started, and the instructions are clear and concise. You can have it up and running in no time.
4. What kind of sushi can you make with the kit?
Assuming you are referring to a sushi making kit, there are a variety of sushi that can be made with such a kit. The most common sushi made with a sushi making kit is makizushi, or sushi rolls. To make makizushi, you will need nori sheets, sushi rice, and fillings of your choice.
5. Does the kit come with a sushi mat?
No, the kit does not come with a sushi mat.
6. Does the kit come with sushi rice?
Yes, the kit comes with sushi rice. It also comes with nori sheets, wasabi paste, pickled ginger, and a bamboo sushi mat.
7. Does the kit come with sushi vinegar?
No, the kit does not come with sushi vinegar.
8. Does the kit come with nori sheets?
Yes, the kit comes with nori sheets. The sheets are made of dried seaweed and are used to wrap sushi. They are thin and brittle, and break easily. The kit also comes with a bamboo mat, which is used to roll the sushi.
9. Does the kit come with a sushi knife?
No, the kit does not come with a sushi knife.
10. How long does it take to make sushi with the kit?
Assuming you are referring to a sushi making kit, it usually takes around 30 minutes to make sushi. This includes the time it takes to prepare the rice, cutting the vegetables, and rolling the sushi. If you are using a sushi mat, it may take a little longer to get the hang of rolling the sushi tightly. Once you get the hang of it, you can make sushi much faster.